Game of the week
The purpose of 'game of the week' is to try and highlight some cracking games that you might have missed, everyone knows Conkers BFD and the Zelda series are magnificent, no doubt when I begin to run out of inspiration I will review these as well, but all the games reviewed here are worthy of a place in anyone's collection. ;-)
I've been playing All Star Baseball 2001 all this week on the train using 1964 0.71 since discovering the configuration setting necessary to make it run (cheers Noote). Reason enough me thinks to make it this weeks 'Game of the week'.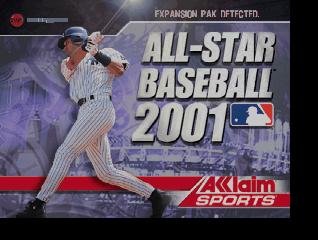 ASB is the best baseball series on the N64 and ASB 2001 is the best of a great bunch, it has beautiful graphics (even the players faces are apparently modeled accurately) some great cut scenes and animations that add not hinder to the atmosphere and that most elusive of quantities, gameplay. There are also lots of really nice touches such as players throwing their bats down in disgust when they are angry and organ music when you hit a home run.
Yes I know I'm British and to most of us Baseball is just an 'over-the-top game of rounders played in huge stadiums by blokes in pin-striped pyjamas' but this really is a fun game. Having seen lots of Baseball games in the US (go orieles) I can assure you that Baseball is a great game, a weird game in that watching the complete game is much more interesting than the highlights (tactics, stratergy etc). Also it is so much better than the god awful stop-start American Football. (9 seconds of action anyone?)
Rant over, back to the game, there are a whole range of modes to choose from; arcade mode, league mode, playoffs, management mode and a home-run mini-game. In arcade mode it is simply a question of timing to give the ball a satisfying whack into the outfield. As the menus are pretty screwed up, the arcade mode is the easiest to play (just keep pressing A).
The controls and game play are simplistic and intuitive and whilst none of the old grey cells will be overly taxed by this game it is none the worse for it, when you thump the ball out of the ground you get a real sense of achievement.
They never released this game in the UK as it was not significantly different to ASB 2000 but it is really worth the download.
Another cracking game for your collection!
bata bata bata swing bata as Ferris would say! ;-)
Gamespot awarded the game 92% and said about it 'All Star Baseball 2001 is the best console baseball game, bar none. The visuals are photo-realistic, the gameplay itself borders on perfect, and the variety of game modes and multiplayer options offer high replay value. Furthermore, the game is just fun - and that, when all is said and done, is what counts the most' couldn't have put it better myself! read the full review here